About Me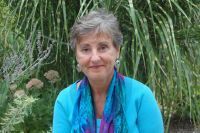 Paula Nesoff, LMT, MSW
Office: Hull, MA
My passion is helping clients find their optimum sense of health and wellness through effective application of massage techniques specially designed to meet individual needs. Having a background in social work, education, meditation, dance, Tai Chi and movement enables me to provide clients with individualized treatment plans that will enhance their sense of well-being and empowerment for their own healing.
I offer massage sessions that can help clients gain a greater sense of relaxation by reducing pain or discomfort. Through an integrative approach combining traditional massage techniques and the comforting effects of Reiki, the Japanese energy work of gentle hands-on touch, clients feel a greater sense of calmness and ease in their bodies. These types of sessions provide learning opportunities on how to include deep relaxation techniques into self-care routines at home, at work and in everyday activities.
Some interesting facts about me:
1) Was the first massage therapist at Boston Medical Center's Family Medicine Clinic Integrative Medicine Clinical Services from August 2011 to February 2015. Working closely with patients' physicians, other staff members, and of course the most important person - the patient, we designed the best therapeutic massage to support health and wellness.
2) Volunteer in the Brigham and Women's Hospital Reiki Program since February 2010, and also provide supportive Reiki and Massage with Old Colony Hospice.
3) I hold a Massachusetts state license in massage, am a member in good standing with the American Massage Therapy Association and have a Masters of Social Work from the City University of New York.
4) After teaching for almost 27 years, I am honored to be a Professor Emeritus of Human Services at LaGuardia Community College, City University of New York
5) My education in massage therapy is from Cortiva Institute, School of Massage Therapy, where I had an intensive education in Anatomy, Physiology, Pathology, Kinesiology, Ethics, Business, and various treatment modalities.
6) I was an adjunct instructor at Wheelock College teaching in the BSW Program for 4 years.
If you would like to sponsor classes below I'd enjoy hearing from you!
Introduction to Moving Meditation - Tai Chi meets Chi Gong
~ Connect to your inner core of energy ~ Strengthen your capacity for deep relaxation
~ Move with a greater sense of ease
Join Paula in a community of like-minded supportive people No prior experience required – Wear loose comfortable fitting clothing
Benefits of Tai Chi:
http://www.nytimes.com/2010/08/19/health/19taichi.html?emc=eta1
News on Benefits of Massage Therapy:
http://www.bostonglobe.com/ideas/2015/10/31/embracing-power-human-touch
http://www.nytimes.com/2010/09/21/health/research/21regimens.html?ref=todayspaper
http://www.latimes.com/health/boostershots/la-heb-massage-20100909,0,1714412.story
http://www.npr.org/2011/07/04/137609072/got-low-back-pain-massage-therapy-may-rub-it-out
Stress Relief and Taking Care of Your Mind, Body & Spirit